Tyee Cove Or Blueback Community Park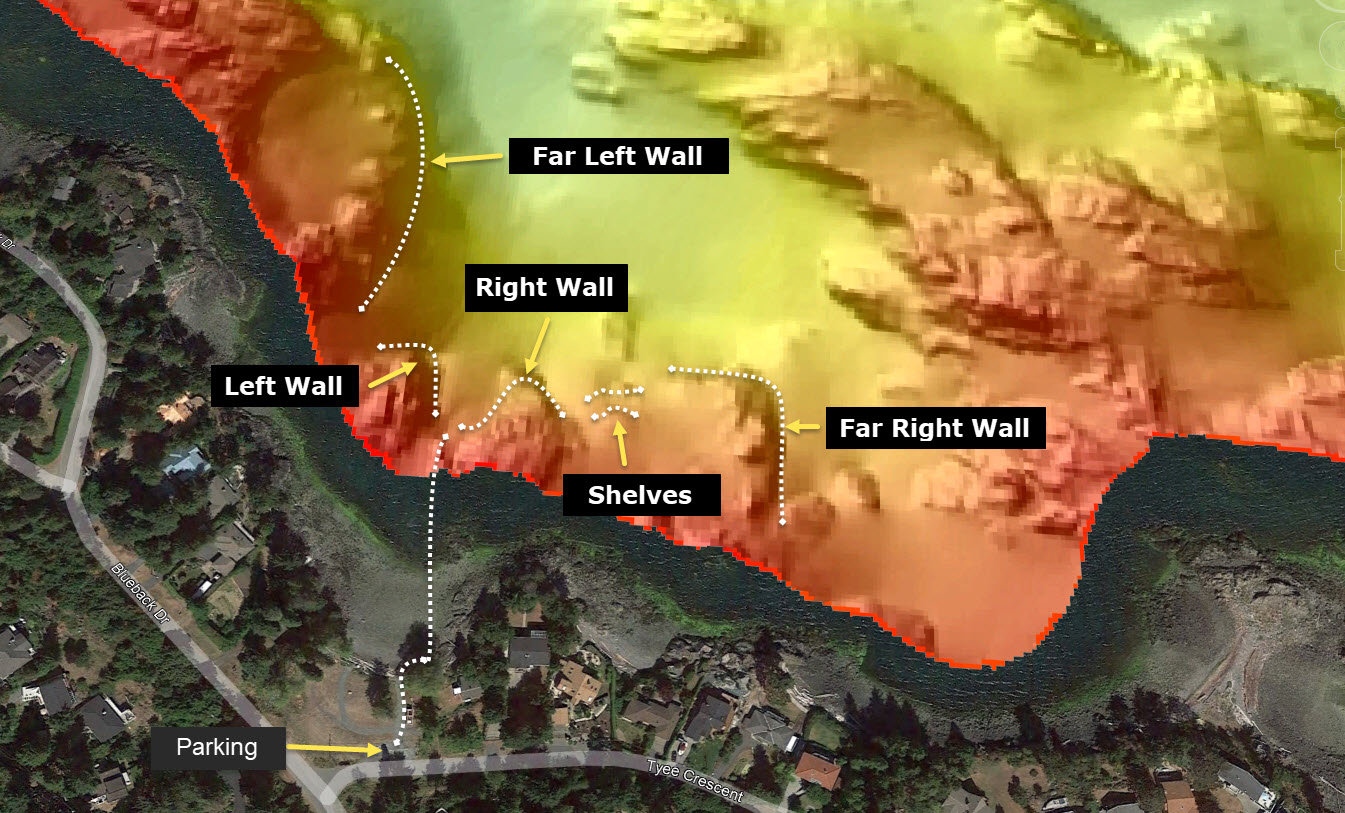 #1.  The Left Wall
#2.  The Right Wall
#3.  The Shelves
#4.  The Far Right Deep Wall
Blueback Community Park, also known as Tyee Cove or Seducers Cove is an extremely popular shore diving site located in Nanoose, close to Nanaimo, BC.  This site is famous for a resident wolf eel that local divers call "Grandpa".   The is a popular spot for local dive shops putting on open water courses so it can get very busy on some weekends but during the week there is very little activity so you'll often have the site all to yourself.
Parking Availability
There is a small parking lot at Blueback Community Park that can handle 5 or 6 cars and when really busy people just park along both sides of the road.  It's not uncommon for there to be over a dozen vehicles on a busy weekend.
Bathroom Availability
There is a single outhouse at this site.  It is not very large, it is not always clean either. There is hand sanitizer inside.  There is also a small wood structure that is supposed to be a changeroom, I guess, but I have yet to see anyone use it.  There is also a Petro-Can gas station about 10 minutes away.
Dive Plan Suggestions
There are actually several different dives one can do at Blueback Community Park depending on your skill and comfort level and what you're looking to see.  The dive starts with a short walk from the parking area or the picnic table to the beach.  On the far right side of the beach there is a nice trail where the rocks have been cleared away making a very nice entry on almost all but the lowest of tides.
When you first descend you'll quickly be swimming through an eel grass filled bay.  As you continue to head out North you'll have some small rock structures on your right.  You can keep these rock formations on your right and Eventually you'll hit what local divers call "the chute".  It's essentially a sand chute between two sections of the reef.  From the chute you can go LEFT or RIGHT and each of these are very different dives.
Tyee Cove Left Wall

Difficulty: Beginner Or Advanced Open Water.
Recommended Gas: Air or 32% Nitrox
Depth: 30 to 100+ Feet or 10 to 30+ Meters
The left wall can be accessed by heading out straight north from the entry until you reach the chute.  If you see an orange 5 gallon pail full of concrete you're in the right place!  Keep heading North and you'll see the bottom start to drop away as you descend down the chute with rock formations on your left and right.  You'll see where the wall starts on the LEFT and you can just follow it around until you eventually reach another sand chute.
When you reach the second sand chute (it doesn't take long) you can come back the way you came or if you have lots of gas left you can continue across the sand chute and over to the second left wall.  This wall gets much deeper and there is lots to see.
There are plenty of rock piles, cracks, and crevices to shine your light into and an abundance of all kind of marine creatures.
Tyee Cove Right Wall

Difficulty: Open Water or Advanced Open Water.
Recommended Gas: Air or 32% Nitrox.
Depth: 40 to 100 Feet or 10 to 30+ Meters
The right wall is a great dive for all levels.  If you're an advanced diver there is some cool rock formations down around 80-90 feet.  For the beginners or those who don't like deep dives the right wall as an abundance of cool rock formations with tons of cracks and crevices to find life.
To access the right wall you enter the water and head straight north to the chute.   As you descend down the chute the right side will open right up into a large, sloping boulder pile.  If you stay 40-50 feet you'll be into some very tall, tower like rock structures that are pretty cool.  If you go deeper you'll find a sandy bottom with some extremely large boulders that have plenty of hidey holes for critters.
As you reach the end of this wall you'll hit another sand chute a quick swim across the sand to your west and you'll hit what local divers call "the shelves".  These are a small series of benches at about 70-90 feet deep that can house a variety of life.
From the shelves if you head north west for a minute or two you'll reach another deep wall.  This wall runs in a westerly direction eventually turning a corner and heading south.  This is a deeper wall dive and there is not as much life this way, at least not that I've seen yet in multiple dives.  There are however some large plumose, some cool rock formations, lots of rockfish and several octopus dens.
Common Species At Tyee Cove
This is just a small sample of some of the interesting species that can be found while diving at Tyee Cove.  These photos are all from Tyee Cove.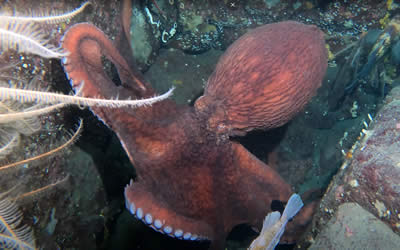 GPO's are abundant throughout this site but you'll need to look for them as there is a lot of hiding places.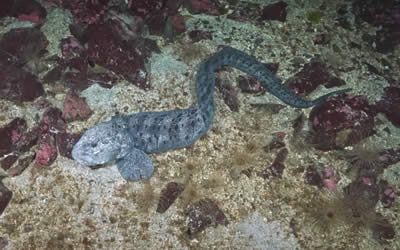 Wolf Eels are occasionally found at Oak Leaf Park along the main wall but they are not common.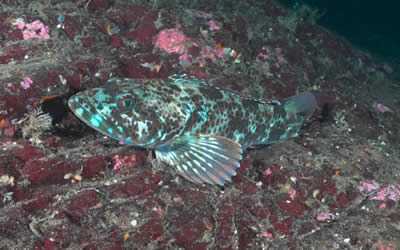 Lingcod are very common at Oak Leaf with a few monsters of the deep lurking around.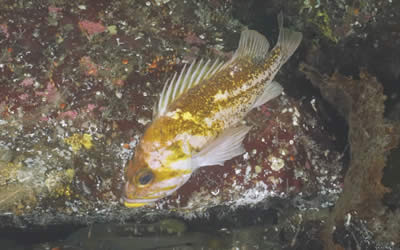 There is a wide variety of different rockfish species present throughout Oak Leaf Park.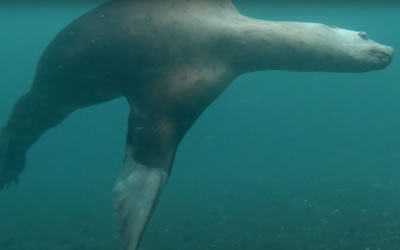 Sea Lions can be encountered here year-round but are more common in the fall/winter.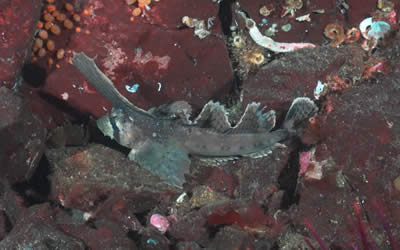 Sailfin Sculpins of varying sizes are quite common here especially when diving at night.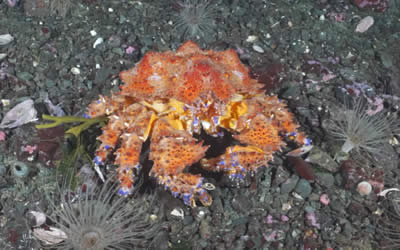 Puget Sound King Crabs are common at Oak Leaf from colorful juveniles to large mature crabs.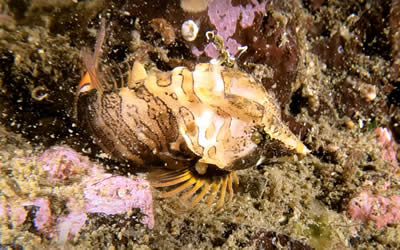 Grunt Sculpins can often be found along the main wall.  Look inside cracks and holes.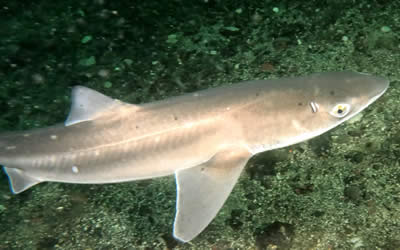 Pacific Spiny Dogfish can be spotted here but they are usually found during the summer months.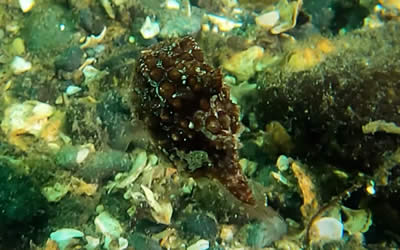 Lumpsuckers are found frequently in the big bay at Oak Leaf especially during the fall/winter.
Visibility Reports
Tyee Cove (Blue Back)
Visibility Date Jul 23, 2023, 10:00 am
Visibility Conditions Tide Falling
Visibility Conditions Good Visibility (30-40 ft)
Note
About 20 feet in the shallows and opens up much more once you get below 30 feet.
Visibility Date May 16, 2023, 11:00 am
Visibility Conditions Low Slack
Visibility Conditions Good Visibility (30-40 ft)
Note
First 30 feet was very bad viz with lots of particulate but beyond 30 feet it opened right up. Very nice dive.
Visibility Date Apr 12, 2023, 11:00 am
Visibility Conditions Tide Falling
Visibility Conditions Okay Visibility (20-30 ft)
Note
Not great viz but also not really bad either.
Videos From The Tyee Cove Dive Site
Subscribe To This Users YouTube Channel
Subscribe To This Users YouTube Channel
Subscribe To This Users YouTube Channel