Why You Should Put The City Of Nanaimo, British Columbia, Canada On Your Scuba Diving Bucketlist
When most people think about scuba diving travel they think about diving in warm, clear, tropical waters, with reefs full of color and an abundance of marine life.
The thought of diving in frigid, cold waters in wintery weather doesn't necessarily sound appealing to most.  If this describes you, then you could be missing out on some of the most spectacular, world-class diving, in a little-known place on Vancouver Island, British Columbia, known as Nanaimo.
Located in the middle of Vancouver Island on the eastern coast you'll find the oceanside, port city of Nanaimo.  Vancouver Island itself lies just off the West coast of British Columbia, Canada, about a 90-minute ferry ride from Vancouver.
Surrounded by the Pacific Ocean, this little piece of cold water diving heaven is located in an area of ocean known locally as "The Salish Sea".  The name pays respect to the indigenous people who have lived in this area for centuries before western settlers arrived.
The Salish Sea is abundant with marine life of all shapes, sizes, and colors, boasts some of the absolute best, most accessible, cold water scuba diving anywhere in the world.
From thriving reefs full of life to deeper wall dives, shallow muck dives, and even artificial reefs and wreck dives, Nanaimo has it all.  Most of it is easily accessible by shore, with a few spectacular boat dives in the mix as well!
A bustling city, with a population of more than 90,000 people, Nanaimo has all of the amenities that a traveling diver could ask for.  Great accommodations, great food, and dining, there are some amazing top-side attractions, several dive shops to cater to your diving needs, and it's easy to get here.
Dive travel to Nanaimo is also affordable too, especially when you compare it to the many tropical destinations with expensive live-a-board accommodations.  Is the water warm and inviting?  Heck no!  This is truly cold water diving.  But it makes up for the lack of warm, tropical water with an abundance of marine life that you're not going to find or experience anywhere else!
What Are You Going To See Scuba Diving In Nanaimo?
Subscribe to our YouTube Channel
Subscribe to our YouTube Channel
The Pacific Ocean is full of life and scuba diving in the Salish Sea can be like swimming in an aquarium if you come at the right time of year.  There are larger marine mammals such as seals, sea lions, and sea otters.  The most common big animal encounter is sea lions buzzing by or coming in for a closer look while showing you their superior swimming skills.
There is an abundance of fish species to see including dozens of species of rockfish which include lingcod, colorful kelp greenling, painted greenling, copper rockfish, quillback rockfish, yellowtail rockfish, cabezon, and several species of sculpins.
There are also numerous dive sites where wolf eels can be found both solitary individuals or in mated pairs.  These impressive fish (they aren't a species of eel) are usually quite curious about divers and are often eager to come out for a visit.
For invertebrates, there are dozens of species of flamboyant nudibranchs in various colors and sizes, white and orange plumose anemones, painted anemones in various bright color schemes, pink crimson anemones, soft colorful corals, and more.
Don't forget some of the more well-known and popular cephalopod species we have up here too, like our Giant Pacific Octopus which can grow to have an arm span of over 20 feet!  GPO's are often very curious about divers and reaching out with a tentacle or two for a quick handshake is a common experience.
There are also ruby octopuses, which are generally smaller, and if you're into night diving opalescent squid in small groups or large schools are a treat to see as well as the elusive stubby squid.
If you like the small critters there are hundreds of species of macro life here including the ultra cute pacific spiny lumpsucker, grunt sculpins, flabellina nudibranchs, frosted nudibranchs, hood nudibranchs, pipefish, shrimp, and more.
If diving with a camera is something you love to do then you'll find no shortage of subjects to keep you busy filming and taking pictures.  It's a macro or wide-angle photographer or videographer's paradise up here.
When Is The Best Time Of Year To Dive In Nanaimo?
Many people want to travel here in the spring and summer but for the absolute best diving experience it's generally better to come in the fall and winter.  Yes, the weather is certainly nicer and warmer during the summer but the visibility is phenomenal during the colder months.
Springtime (typically March) brings the annual herring spawn which can be devastating for visibility.  Lasting about 3 weeks, the herring spawn leaves some sites completely undiveable until the water clears up.
The rest of the spring and summer can be unpredictable depending on the weather and the algae blooms.  The visibility can range from really good to pea soup consistency although you can often just go a little deeper to get below the bad visibility and still have enjoyable dives.
Aside from the excellent visibility, it can be more affordable to travel here during the fall and winter as it's not typically peak tourist season and you'll find accommodations more plentiful and at lower off-season rates.
What Are The Absolute Best Dives In Nanaimo?
There are dozens of potential dive sites in the Nanaimo area but there are a few that really stand out above them all and would be our absolute "must dive" sites for someone travelling to dive here.
#1.  Madrona Point (shore dive).  If you're itching for an encounter with a Giant Pacific Octopus, this is the dive site for you.  The Madrona "big wall" is just a short 6 or 7 minute swim from shore, marked by a large white buoy at the start of the wall.  This stand-alone wall is surrounded by sandy bottom which is the perfect habitat for Dungeness and red rock crabs.  These are both some of Giant Pacific Octopuses' favorite foods.
Subscribe to our YouTube Channel
Subscribe to our YouTube Channel
It's not uncommon to see several octopuses here in a single dive (our record is 12).  Most of the Octopus will be huddled up in their dens but if you're really lucky you may catch one out in the open for an amazing, once-in-a-lifetime encounter.
Madrona Point is also home to various species of rockfish, and wolf eels, and it's an excellent place to see sea lions as well.
The big wall has a maximum depth of about 90 feet and is best suited for advanced open water divers who have nitrox certification.  If you've never dived here before it can be worth it to hire a local divemaster for a guided dive through one of the few local dive shops.  If you feel confident enough in your skills to tackle it on your own it's often easiest to surface swim out to the buoy and then follow the line down to the start of the wall.
When the visibility isn't so good, even the most experienced local divers can sometimes get lost here and miss the wall entirely.  If it's your first time here and you want to get the most out of your experience, swim to the buoy and go down or hire a local guide.  You'll be glad you did!
#2.  Tyee Cove (shore dive).  This is a very popular shore dive in the area with a series of reefs and walls that are full of all kinds of life.  You can find wolf eels, rockfish, nudibranchs, octopuses, sea lions, and everything the area has to offer.
Navigation at this site is fairly straightforward and there are dive site maps available at the local dive shops.
Tyee Cove offers an easy shore entry and your choice of either the left wall or the right wall.  The right wall drops down to 100+ feet and the left wall can go even deeper if that's your thing.
Rumour has it that there is a very large male wolf eel that inhabits this site and he goes by the name of "Grandpa".  He's been a local scuba diving attraction for almost 20 years and is very friendly with scuba divers.
Hiring a local divemaster from one of the local dive shops will ensure you have a great experience at Tyee Cove.
#3. HMCS Saskatchewan (boat dive).  This is probably the most well-known artificial reef accessible from Vancouver Island.  This 366-foot Mackenzie Class destroyer was sunk in 1997 and lies in about 130 feet of water.  The main deck of the ship is around 90 feet deep depending on the tide.
Subscribe to our YouTube Channel
This artificial reef is impressive!  It's been down long enough for fields of very large orange and white plumose anemones to grow.  There is massive lingcod cruising around the wreck, and an abundance of other rockfish including copper rockfish, quillback rockfish, and large cabezon.
There are often large schools of baitfish swimming around the superstructure.  Towards the stern of the ship, there are some large cloud sponges that are very popular for photos and video.
If you are a wreck-certified diver this wreck can be penetrated and was made safe for divers before it's sinking.
There is only one local charter company taking divers here and that is Nanaimo Dive Outfitters.  You'll want to contact them in advance to find out what days the charters will be available and they are weather dependent.
This is a deeper dive 90-110 feet so you'll need your advanced open water course and the preferred gas for this dive is a blend of 28-32% nitrox.
The HMCS Saskatchewan is about a 15-20 minute boat ride with Nanaimo Dive Outfitters from the Nanaimo Harbor.
#4.  Clarke Rock (boat dive).  If you're diving the HMCS Saskatchewan this is quite often the 2nd dive of the day.  Just a 10 minute boat ride away, this site is very well known for it's abundance of wolf eels.
This reef is essentially a large pinnacle with a small lighthouse on top.  The rocky pinnacle is partially surrounded by a steep boulder field.  It's in these large boulders that you'll find the wolf eels hiding in the cracks and crevices.  You'll find large mature wolf eels, mated pairs, and more colorful juvenile wolf eels as well.  It's not uncommon to see 5 or more in a single dive so bring your camera if you're into photos or video.
There is also an abundance of various species of rockfish, and the occasional octopus can be spotted here as well.
This is a shallower dive, with a maximum depth of 60-70 feet depending on the tide.
While there are certainly more dive sites in the area if you had to choose only four to visit, these are the ones you wouldn't want to miss.  You'll be getting to see the best of the best that this area has to offer.
What Type Of Gear And Certifications Are You Going To Need?
This is truly cold water diving.  The average water temperature is 6 to 10 degrees Celsius so you need to be prepared.
Diving in a drysuit with proper thermals certainly is recommended but it isn't an absolute requirement. We do see divers in 7mm wetsuits all the time but they will often only last for one dive in a day.
If you aren't drysuit certified yet there are a few local shops that can provide you with a drysuit course (it's usually a couple of hours long) to get you familiar with a drysuit, and once certified you can rent a drysuit from any local dive shop.
You'll also need a hood, a good set of gloves (dry gloves are preferred), and a good dive light as sometimes the diving can be dark depending on the time of day and weather.  All of this equipment and your other essentials like drysuits, regulators, and BCD's can also be rented locally from a few different dive shops.
As for certifications, your advanced open water certification is almost a necessity if you want to enjoy the best areas of every dive site, especially the artificial reefs and wrecks.  Having your nitrox, enriched air certification will also enable you to get the most enjoyment out of your dives with the increased bottom time.
How Do You Get To Nanaimo?
Nanaimo is located on Vancouver Island in British Columbia and there are a variety of ways to get here.  If you're flying in from another country you can fly directly into Vancouver, Victoria, or Comox, which are international airports and connecting flights can be obtained to Nanaimo Airport.  If you fly into Vancouver you'll be on the mainland so you will need to either get a connecting flight to Nanaimo (there are several carriers) or you can catch one of the BC ferries that take you across to the Island.  It's about a 1.5-hour to 2-hour boat ride.
If you're driving up from the USA or another part of Canada then Vancouver is where you'll be headed first.  From Vancouver, you'll be catching one of the BC Ferries that take you to Vancouver Island.  You can get a direct sailing from either Tsawwassen or Horseshoe Bay and end up at either Duke Point or Departure Bay in Nanaimo.
Once you're in Nanaimo, you're within 20-30 minutes of all of our most popular dive sites, including the artificial reefs and boat dives which are only a short 15-20 minute boat ride from the dock.
Don't Rule Out Nanaimo From Your List Of Must Travel To Dive Destinations
The water may be cold but there is no shortage of color and life in these waters.  With ample accessible shore dives, amazing artificial reefs, deep walls, and structures, you'll know that you've stumbled into a divers paradise once you break below the surface!
Any questions about diving on Vancouver Island?  Shoot us an email through our contact form and we'd happy to answer them for you.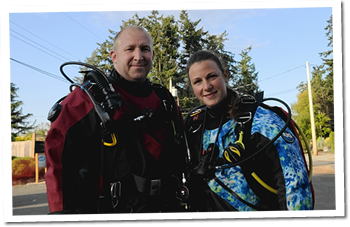 Carl Sorensen is an avid scuba diver based on Vancouver Island, British Columbia. ScubaBC.Ca on DiveAdvisor